How it works?
As we know that restrictions at work places have begun to be lifted, it becomes important to check the return of the employees back to work with assured safety without compromising the health of employees.
eToken enables you to securely reopen occupancy limits with utilizing most unique and robust people counting system.
---
Add your business / Location
eToken technology can help you safely track vital features including headcount, number of people in a given area, visitors schedule, safe distance between people, the system sends timely alerts to manage smooth flow of employees, preventing gatherings.
Online eToken Generation
Through the system of eToken, all customers can generate a token by using mobile app or computer with date and time.
Scanning of token by authority
As and when any entry is made, our professional authorities perform accurate scanning of token before giving access to anyone.
Quick reports to authority
Authority will get quick and genuine reports of all visitors and occupancy in their location.
---
Get live updates
Safe and accurate system.
Capability of issuance paid etoken by online payments.
Rapid and smooth, self-install solution
Very Cost effective
eToken issuance from mobile app and over the counter
Over the counter printed QR code-based token
Dedicated entity-based customizable platform available
eToken can be integrated with payment system for paid eToken issuance for entries and appointments
etoken reader at issuing end can read the QR code based issued token efficiently , fast , accurate and verify the information for entries and appointment
Easy download and printable eTokens
Single time usable unique eToken
Customization for type and purpose of eToken
Location map availability for the venue for which eToken is issued
Online mobile app as well as over the counter token issuance with printable QR code-based tokens
Advantages of using the eToken system we assure maximum analysis with immense accuracy.
Encourage visitors to follow safety rules during the pandemic with our authentic counting app. We at eToken had to create tough technology that could avoid such nuisance, to meet the occupancy measuring needs for buildings that need to stay open during the COVID-19 crisis. These buildings include (but are not limited to) supermarkets, retail stores, public buildings, Religious Places, offices, banks, pharmacies and more.
---
Supermarkets
Religious & Tourism places
Museums
Educational Institutes
Banks and Financial institutions
Event Venues
Security Surveillance Places
Theaters and Cinema Halls
Government offices
Doctors
Parking areas
Amusement Parks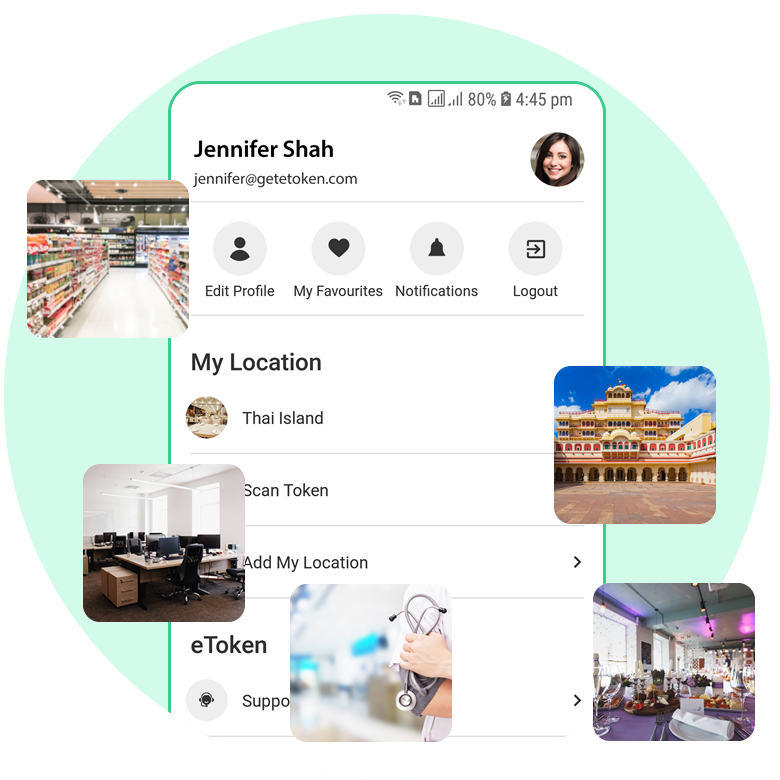 ---
Benefits for organizations
---
Customers will feel safe as number of visits are controlled via eToken
No long queues for waiting.
You can get updates on your revenue.
You can share your personalized eToken URL in social media to attract new customers.
Prove your business is following social distancing compliance to local authority
Control number of visitor/Customer
Now you can avoid too many or too less visitors via managing your appointment through eToken
Reviews
What our clients say
about us
---
Dr. Pranav Thakkar (Doctor)
It's the best application for taking appointed daily appointment with time. GeteToken is best helpful and very easy to operate.
---
Piyush (Saloon - Owner)
GeteToken is not just a booking app. It's truly a business management software. Customers can book from my personal website. That's great!
---
Sandra (Restaurant - Owner)
I love GeteToken, it makes it really easy to manage social distancing and occupancy restrictions in my restaurant.
---